Tim Wall - 23 / Jun / 2020
Do You Need To Change Your Strings?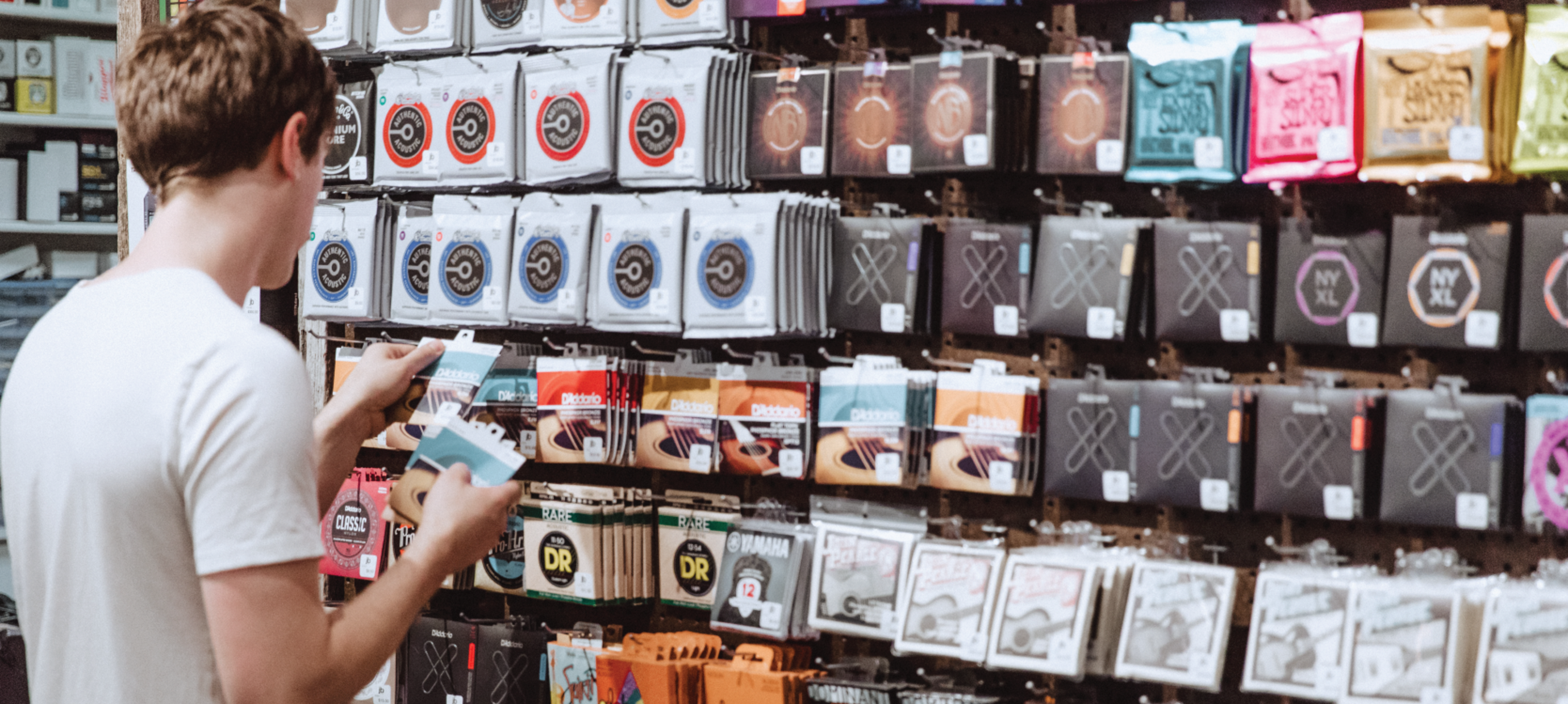 The decline in the sound quality of your guitar strings can happen so gradually that it's often difficult to notice it happening. You may find that it's been months or maybe even years since you've felt easy playability and heard the shimmering clarity of a fresh new set of strings. Leaving the guitar with dirty, sticky strings that don't feel good, don't sound good, and aren't inspiring to play.
What to Look For
While it's generally recommended to change your guitar strings every month or two of regular playing to keep it sounding the way it should, there are a few things to look out for when deciding if you need to change your strings.
Corrosion
The moisture from the environment your guitar is stored in slowly breaks down the string material, causing them to corrode. The added moisture from the sweat and oil that naturally occurs on fingers can expedite that corrosion process. This is also dependant on the individual – some might find that their strings naturally corrode quicker than others. Corrosion looks like darker spots along the string and is most often found on positions on the fretboard that is most often played on. Over time it causes the strings to feel gritty and sharp.
Constant Tuning
The constant tension of the strings over time will cause them to lose their tuning more frequently, If you find that your strings are constantly going out of tune, that may be a good sign that it's time to change them.
Dull Sounding
Along with feeling gritty and sharp, the corrosion process also takes a toll on the sound of the strings, causing them to lose their clarity, making them sound dull.
Things To Consider When Changing Your Strings
String Gauge
The gauge is the diameter of the guitar string. The smaller the number, the thinner the string, inversely, the bigger the number, the thicker the string. On string packaging, you will likely see them displayed like this: 10-46, meaning in this case, the thinnest string is .010 inches in diameter, and the thickest is .046 inches.
Using different gauges comes down to personal preference. The more time you spend playing your guitar, the more preference you'll have about the gauge of your strings.
Lighter Gauges
Lighter gauges are the most popular for standard tuning and are also generally easier to play. Lighter gauges offer less tension on the strings, allowing them to be more easily pressed down and bent. Giving the potential for longer play sessions that won't hurt the fingers quite as much as a heavier gauge. Lighter gauge strings tend to have a brighter sound, with less sustain than a heavier gauge.
Heavier Gauges
Heavier gauges are preferred by players that enjoy more tension or are looking to tune lower than standard tuning. They are harder to bend and require more strength from your fingers. Heavier gauges also keep their tension when down tuning, eliminating the risk of having any unwanted string buzzing that you might have with a lighter gauge. Heavier gauge strings tend to have a beefier sound, with more sustain than the lighter gauges.
Coated Strings
If you find that your strings are losing their sound quicker than you would prefer, and don't want to change them as often, consider trying coated strings.
Coated strings have a thin layer of protective coating that repels dirt and oil, enabling them to keep their out-of-the-box sound longer than their uncoated counterparts. The coating does affect the sound, however, eliminating some of the clarity you might be familiar with when using a fresh set of uncoated strings.
String Care
If you're wanting to keep your strings sounding as crisp and lasting as long as possible, there are measures you can take.
Washing your hands before playing to get rid of excess oil and dirt or food residue.
Wiping the strings down with a cloth or GHS Fast Fret after each session.
These measures keep the strings clean and allow the oxidization process to occur naturally, rather than speeding it up.
Summary
Keeping up with string changes plays an integral role in your guitar playing journey. It helps you make sure everything is feeling and sounding as it should, allowing you to stay motivated and inspired to keep playing.
If you liked this article, feel free to check out our other posts in our Learn section!
If you'd like to be notified when a new article is released, sign up to our newsletter!